My Friends,
This is really important. Anthony McGill, principal clarinetist of the Metropolitan Opera Orchestra, is a featured performer on the "Oath Ceremony" of the Presidential Inauguration of Barack Obama. This is not only an extremely historical moment for the United States of America, but a very historical moment for the clarinet.
Mr. McGill was chosen by Yo Yo Ma who was chosen by Barack Obama to play a special, new piece of music before the President-elect takes the oath of office. Ma, the famous cellist, teamed with violinist Itzhak Perlman, Venezuelan pianist Gabriela Montero, and film composer John Williams to come up with Air and Simple Gifts for the ceremony.
Set your TIVO, DVR, VHS or whatever you use to record great Clarinet Historical Moments to January 20th, 2009, 11:30 a.m. Eastern Standard Time. Read more about McGill, John Williams' new work, and the Presidential Inauguration Ceremony and Parade right here.
---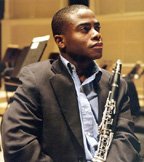 This is serious, pass this news onto other clarinetists. Mr. McGill is performing right before President-elect Obama's oath and speech.


On another note, see more colors available at

Sincerely, Chris Jones
www.Clarinet-Now.com