My Friends,
Celebrate Clarinetist Benny Goodman's Centennial Birthday. LISTEN, WATCH, PLAY, TRANSCRIBE AND HAVE FUN. Benny Goodman, born May 30th, 1909 and lived to June 13, 1986 was the "King of Swing" and probably the most famous clarinetist of all time.
He made jazz history by introducing the style in Carnegie Hall on January 16th, 1938.
He led one of the first racially-integrated musical groups nearly ten years before Jackie Robinson became the first black American to enter the Major League Baseball.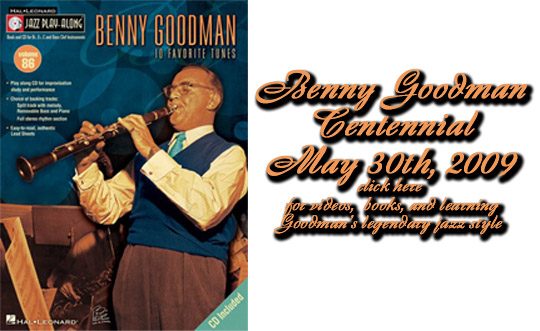 Known more as a jazz clarinetist, his technique and fame helped him draw the attention of classical music composers. He commissioned and premiered works: Contrasts by Bela Bartok, Clarinet Concerto No. 2, Op. 115, by Malcolm Arnold; Derivations for Clarinet and Band by Morton Gould; and the Clarinet Concerto by Aaron Copland.

So, I ask this of you? Find some way of enjoying or PLAYING Benny Goodman music. I've written a page on Clarinet-Now.com on Mr. Goodman that takes you to all of his biographical information, but also includes numerous YouTube videos on Mr. Goodman, and a short intro on how to learn his jazz style.

So, what do you do?

LISTEN, LISTEN, LISTEN TO BENNY GOODMAN. Then, learn to pick-up some of his tunes or licks. Make these a part of your practice routine. Practice your scales, arpeggios and thirds with a "swing" style.

Why do you do this? Why listen and then try to play it. Understand that everyone, EVERYONE has musicians that influence them. Mr. Goodman had influences himself. New Orleans jazz clarinetists Johnny Dodds, Leon Roppolo and Jimmy Noone were some of his early clarinet influences.

Later in his life, he studied with renowned classical clarinetist Reginald Kell. Here, at age 40, Mr. Goodman switched to double-lip clarinet embouchure.

Of course, the likes of his fellow band members were pretty amazing musical influences as well to include Lionel Hampton, vibraphones; Gene Krupa, drums; Count Basie and Duke Ellington. Let Mr. Goodman influence your playing.

Return here to Clarinet-Now.com to
1. Listen to him

2. Try to transcribe a Goodman solo

3. Find book, learn a new style

4. Best music recordings to buy

5. Goodman videos on YouTube

6. Best Goodman websites

7. Best Goodman posters

Cut to the chase, I want a Benny Goodman Music book now…


Best of luck to you and spend this Saturday, 30 MAY 2009 celebrating Benny Goodman's Centennial. Listen, play, study, read-about and learn everything you can about Benjamin David Goodman.



Practice and hope

If you belong to this newsletter and/or find Clarinet-Now.com interesting, you probably have some serious motivation or interest in the clarinet.
If you need a motivational bumper sticker to put on your clarinet case or a motivational mug to remind you to practice or rotate your reeds, you can find them here.

Thanks. I appreciate your interest in Clarinet-Now.com and wish you the best of practicing.


Sincerely,

Chris Jones