Clarinet Notes Newsletter
Clarinet Notes Newsletter or Ezine is a way for you to keep up with Clarinet-Now.com.
When I post new information about Clarinet-Now.com or have a cool performance, I'll let you know about it via this newsletter, or E-zine, whatever you wish to call it.
---
Give (Get) the Gift of Speed!
For your musician young or old, help them reach quicker and more musical speeds no matter what piece of music they are learning.  While Bumblebee Loops is available via Kindle, having the book wrapped up and under the tree is the way to go (and these books aren't stuck on a container ship off the coast of California).    If you are the musician, send this link as a wish-list item for your gift-givers.   Merry Christmas from Clarinet-Now.com!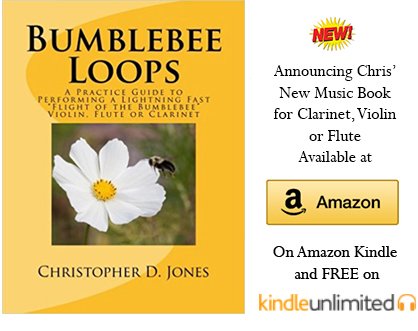 Go to Amazon/Bumblebee Loops to get your copy of Bumblebee Loops here. 
---
This is a double-opt-in mailing list. If you sign up now, you'll get a confirmation email. You will then have to confirm that you signed up. This keeps people from signing you up without your permission.
So, sign-up for the Newsletter now and then go practice your clarinet.
See Clarinet-Notes back issues here.