About Clarinet Now
Thinking of clarinet Birthday gifts? Learn more about clarinet equipment, accessories, quality musician tools and other stuff your clarinetists either needs or wants… Lowest prices
Hello Clarinetists, Friends of Clarinetists and Parents of Clarinetists:
I'm Christopher Jones, a clarinetist in the Greater Hudson Valley Region north of New York City. In a nutshell, I'm a West Point Band Clarinetist.
My degrees are a Masters of Music in clarinet performance and conducting at New Mexico State University in Las Cruces and a Bachelor of Music in Music Education from the University of North Alabama in Florence.
I've had the great pleasure of studying clarinet with guru Kalmen Opperman in New York City for many years. If I've learned 1% of his knowledge about the clarinet, I feel fortunate.
The following photo is Chris demonstrating a good and poor clarinet embouchure. Click the photo to read more about Clarinet Embouchure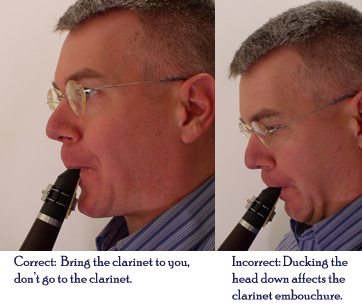 See clarinet instruments and equipment I recommend thanks to Amazon.com...

In October of 2008, I performed the Copland Clarinet Concerto with the Northern Dutchess Symphony Orchestra in Hyde Park, New York, under the direction of Kathleen Beckmann. Some of my other musical experiences are premiering works by Paul Harvey and Robert Baksa; formerly serving on the music faculties at Nyack College and Marist College; and playing chamber performances on the Cornwall Potluck Series and the New Paltz Pone Ensemble.
I also participated in the Opperman/Stoltzman Clarinet Summit at the New England Conservatory of Music in 1999, and the Music FestiValGardena in Ortisei, Italy in 2001.

As I teach high school students privately and give clinics occasionally, I recognize some common trends: Many young players do not listen to clarinet recordings, go to professional clarinet concerts, seek out private teachers or know the names of the top clarinetists in the world. Many do not even know they can take private clarinet lessons. A private clarinet teacher is your resource to the clarinet world. Seek one out.
In building Clarinet-Now.com, I'm opening up my limited knowledge ("The more you know of something, the less you know") of the clarinet in a way that young people or new clarinetists will find fun and helpful.
Also, if you are a parent of a young clarinetist, go to the Clarinet Parent's Guide to get tips on having a good musical environment for your young musician.
Excellently enough, my wife, Nicole, is helping me with this project. Her beginning band and middle school band teaching experience helps me discuss clarinet ideas on a level young people can understand. A flutist, she holds a Masters degree from the New York Institute of Technology and a Bachelors of Music Education from the Crane School of Music in Potsdam, New York. She teaches privately at the New York School of Music in Walden, New York. Her public school bands in Orange County have received the New York State School Music Association top award, Gold with Distinction. I'm thankful for her help and experience on this project.
Remember this caveat: Search for your clarinet information.

Notate it, print it, THEN, turn the computer off and practice clarinet. Searching the internet about clarinet is awesome, but it is not practicing.
Sincerely, Chris Jones
With Clarinet-Now.com, I'm sharing my passion with you, the Clarinet. What is your passion? Are you sharing it with the world? Find Your Passion

However, if you want to "Cut to the chase," click the little TV below to find out how I'm building Clarinet-Now.com.




Go from About Clarinet Now to Clarinet-Now.com.






Sometimes Chris gets distracted while writing for Clarinet-Now.com.