About Clarinet Now
Hello Clarinetists, Friends of Clarinetists and Parents of Clarinetists:
I'm Christopher Jones, a clarinetist in the Greater Hudson Valley Region north of New York City.   
My degrees are a Masters of Music in clarinet performance and conducting at New Mexico State University in Las Cruces and a Bachelor of Music in Music Education from the University of North Alabama in Florence.
I studied clarinet with Kalmen Opperman in New York City for many years. Lessons with him greatly influence my concept of clarinet sound, embouchure, hand position, articulation, etc...
The following photo is Chris demonstrating a good and poor clarinet embouchure. Click the photo to read more about Clarinet Embouchure
Flight of the Bumblebee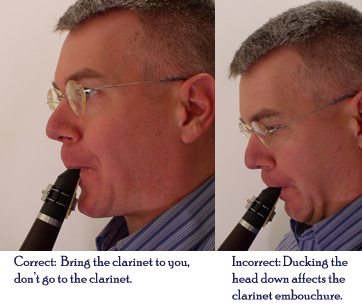 Other career highlights include performing the Copland Clarinet Concerto with the Northern Dutchess Symphony Orchestra in Hyde Park, New York, under the direction of Kathleen Beckmann.
Over the years I've performed in numerous clarinet quartets premiering works by Paul Harvey and Robert Baksa. I also formerly served on the music faculties at Nyack College and Marist College.
Probably the chamber music highlight of my life was performing the Brahms' Quintet at the Music FestiValGardena in Ortisei, Italy.
Hopefully, the instruction on Clarinet-Now.com help you enjoy playing clarinet.  Assistance in embouchure, hand position, articulation and air support are in the navigation to the left. Visit often and practice hard.
Thanks for dropping by!
Sincerely,
Chris
Clarinet-Now.com