Bumblebee Loops
Bumblebee Loops: A Practice Guide to Performing a Lightning Fast 'Flight of the Bumblebee'
is a guide to improve your speed and musicality on the solo
The Flight of the Bumblebee
, but goes deeper to help you work out and improve the sound and artistry of any musical passage. This music book is meant for violin, flute, or clarinet but useful to any musician.
Chris Jones serves up tips and hundreds of bite-sized musical excerpts to help you:
•Identify messy and uneven intervallic and rhythmical flaws
•Increase your focus and practice discipline
•Execute smooth, clean, fast, elegant technique that blossoms musicality
•Apply these tools to any tough musical passage
By the end of Bumblebee Loops, you'll understand the importance of focus, persistence, and take the right steps toward becoming a total musician. 
It is also meant to supplement the Bumblebee solo you already own, see solo version suggestions and links below.
Clarinet Sheet Music / Violin Sheet Music / Flute Sheet Music
How Different Levels use this book
---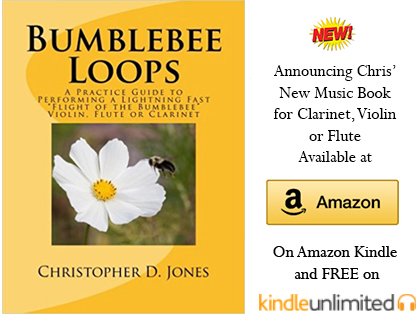 Go to Amazon/Bumblebee Loops to get your copy of Bumblebee Loops here. 
---
More information on the book
• This book is meant to supplement The Flight of the Bumblebee solo music.
• Thirty-four pages of music excerpts exercising segments of The Flight of the Bumblebee as well as how to break down and improve any musical passage.
• This book covers two The Flight of the Bumblebee key signatures in the treble clef: A minor and B minor.
• Information on recommended published The Flight of the Bumblebee solo sheet music for violin, flute, and clarinet. If you already own the solo, match the exercises to the correct octave or key signature. Trill sections of the solo are not included in these exercises. You can start practicing these exercises before you acquire the solo.
• Seven secrets or tips to performing a lightning fast bumblebee. • Rimsky-Korsakov biographical timeline and photos.
• A bumblebee coloring page for you to hand to young listeners while you are practicing or after a performance.
Bumblebee Sheet Music
Clarinet (A or B Minor)
Bumblebee Loops is a supplement to your copy of the solo The Flight of the Bumblebee.  Below are some sources you can get the piece.  You can learn the piece either in A Minor (starts on high E and ends on A) or B Minor (starts on high F# and ends on B).
Clarinet (A minor)
The Chromatic Machine, by Kalmen Opperman (A minor). This is a great clarinet method by my teacher that has 143 pages of chromatic exercises for the clarinet.  The final two pages have The Flight of the Bumblebee (in A minor) by N. Rimsky-Korsakov.  To study Bumblebee this is worth it; however, the part does not come with the piano accompaniment.
Flight of the Bumblebee – Scherzo, Bb Clarinet Solo with Piano - Grade 4 (A minor).  This version is better for young clarinet soloists as some of the harder sections are covers by trills.  
The Flight of the Bumblebee, Bb Clarinet Solo with Piano. (A minor).   This is a great version for clarinet; however, it is out of print.  In the past you could call or write Carl Fisher to receive a free "out of print" copy.  Carl Fisher is extremely slow to respond and I understand they are charging something like $19 for a copy. If you happen to see this version on Ebay or some other place (a flea market), grab it.  Here are the specifics: The Flight of the Bumblebee, Bb Clarinet Solo with Piano, by Nicolai Rimsky-Korsakov and transcribed by Gerardo Iasilli. 
Clarinet (B minor)
Die Hummel, Bb Clarinet and Piano (in B minor).  Here is another free version of the solo via IMSLP.org and it includes the clarinet solo and piano accompaniment.  Again, I prefer the A minor versions.  
Sixteen Grands Solos de Concert for Clarinet and Piano includes The Flight of the Bumblebee (B minor), by N. Rimsky-Korsakov, edited by Daniel Bonade, and published by Southern Music Company.    I highly recommend this collection of solos that are contest worthy.  The Bumblebee is in B minor.  A reminder is that even though I recommend the A minor version, Bumblebee Loops has exercises appropriate for both A and B minor solos.  
Violin (A Minor)
The Bumblebee, Violin solo with Piano – Advanced (A minor).  This arrangement is by violin virtuoso Jascha Heifetz for the Carl Fischer Solo Series and it includes the solo part with piano reduction.  Compared the the clarinet and flute versions of Bumblebee, Mr. Heifetz added two bars at measures seven and eight into this arrangement. To use the Bumblebee Loops method, the measure count will be off by two (after bars seven and eight).   
Flute (A Minor)
Flight of the Bumblebee, Flute solo with Piano - Grade 4.5 (A minor).  This flute version is arranged by Himie Voxman, and published by Rubank.   Compared to the clarinet and violin versions, some of the chromatic lines are up an octave to fit in the flute range better and there are some trill sections.  Bumblebee Loops exercises covers the upper octaves.  
Beginners use of
Bumblebee Loops
Absolute beginners should probably wait a year or two to really dive into Bumblebee Loops.  However, you can look at "Begin Bumblebee" on pages 4-5 to really get your feet wet.  Find a good fingering chart and make your way through the main melody of The Flight of the Bumblebee.  Take it very slowly and try to keep the rhythms very even.  Use this exercise as a warm up every single day and you will become more and more comfortable with it.  The book has good practice tips throughout. 
The high range might be a challenge; however, there are plenty of exercises within fairly easy ranges to work.  Do not try to go too fast too soon throughout the book.  Start on "Begin Bumblebee" on pages 4-5 and try to take that lick to the maximum tempos.  Memorizing sections is very important.  Use these sections to warm up daily. 
Advanced
For those who wish to perform The Flight of the Bumblebeefairly soon or have performed it numerous times.  Analyze your current ability.  Listen (record yourself) to hear any weaknesses throughout the piece.  Circle those measures and then find the coordinated sections in Bumblebee Loops.  Are you happy with your tempo?  Can you go faster on some sections than others?  Take those weak sections and really work the measures in Bumblebee Loops.  The loops are built to really shred those licks.  You do not have to invent, it is all hear for you unless you perform an unconventional arrangement (then invent all you want in the Bumblebee Loops style).
Also remember this, the faster you wish to go the more efficient you ought to be on the instrument.  Keep fingers really close to the instrument.  Do not move around or fly like a bumblebee as you are performing.  Every unnecessary move will drag your speed down. 
Returning Adults
Okay you left your instrument for a few years or an eternity.  You made the brave step to purchase an instrument and mouthpieces, reeds, bows, fancy head-joints, etc…  Now where in the world do you start?  Bumblebee Loops is actually a great place to start and it is not necessarily Bumblebee that is your goal, the goal is to re-learn and really perform well the chromatic scale.  You also need to hone the major scales, arpeggios, minor scales/arpeggios, etc…, but the chromatic scale gives you a good foothold on the instrument. 
Start with Begin Bumblebee on pages 4-5.  Take it slow.  Memorize it.  Focus.  Let this be a major goal to hit a certain tempo by "such and such" date.  Then, go through other parts of the book a little as a time.  Speed is not essential, use the book as a warm-up.  The cool thing about The Flight of the Bumblebee is this.  You will work on it.  The tempo will start moving up, not light speed yet, but moving up in a few weeks.  You are super focused and maybe even get a little down about the renewal process on the instrument.  You are working, working, working…  Your wife/husband/kid/friend/neighbor walks in the room or by your window and they say, "You've been practicing clarinet for two weeks and you already know Flight of the Bumblebee?"  You do not have to have the whole piece down or at blazing speeds for people to recognize this virtuoso solo.  They encourage, you practice more, speeds increase, maybe you have questions, you seek private music lessons, you improve and improve.  Life is full of fun stuff to accomplish, climbing mountains, running marathons, etc…   You chose an instrument and there are no limits to accomplishment if you keep at it.  Be the tortoise and keep plodding!
Professional
University professors, free-lancers, military and orchestral musicians, soloists, and recording artists. Use this book to continue polish, focus on returning technical issues or simply gain some speed. Reference the social media page to send the author feedback on your uses of this material.  Or contact Chris here.