Rubank Intermediate
Method for Clarinet
The Rubank Intermediate Method for Clarinet by J. E. Skornicka and Robert Miller is part of the Rubank method series that is well respected and suited for developing clarinetists. It is a proven method that many clarinetists (including me) have learned the basics of clarinet and music.
---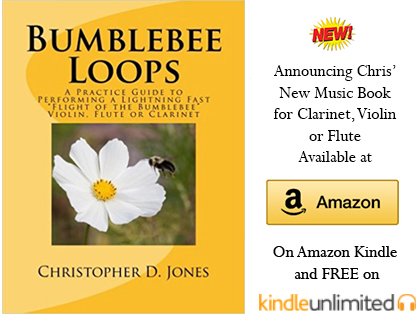 Go to Amazon/Bumblebee Loops to get your copy of Bumblebee Loops here. 
---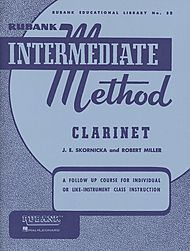 This Rubank intermediate clarinet method is a follow-up series to the Rubank Beginner Method and the predecessor to the Rubank Advanced Method Vol. 1 and Vol. 2. So, as you see, this is a whole course of clarinet instruction.
The Rubank intermediate clarinet method first gives you a fingering chart from low E to high G, the most commonly used range of the clarinet. Fundamentals of music are covered at the beginning of the book. Lesson No. 1 starts on C in the third space of the treble staff. You will need to know your notes over "the break" to start this book.
Very early in the book, emphases of "Marks of Expression" are given as well as "Studies in Accents". Articulations with arpeggiated figures and technical exercises over the break help develop technique. Lesson 7 on page 12 offers the first duet in this book.
Without hashing out the entire book, I can say you will find many useful chromatic technique studies, duets, time signatures of 6/8, triplet studies, major studies, grace notes, trills (with trill chart), and finishing with difficult articulation and technique studies.
Starting on page 48, you'll find trio studies. Find your two best clarinet stand partners and play the trios at the end of the book.