Clarinet-Now.com Practice Chart
The practice chart helps you keep up with the minutes or hours your practice your clarinet. This page includes two charts: the 80-day chart that you have someone sign; or the 15-week chart that helps you keep up with your time by yourself.
One chart number 1, ask your parent, guardian or music teacher to sign-off, or initial, each day you practice.
THIS CHART IS YOURS TO PRINT AND USE. PRINT IT NOW.
---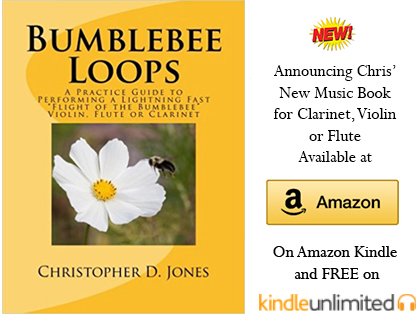 Go to Amazon/Bumblebee Loops to get your copy of Bumblebee Loops here. 
---
What to put on this chart:
1. Include the Date.
2. Include the time practiced.
Do your best to practice some each day. Even if it is 15 minutes, if you practiced 15 minutes each day for 80-days in a row, that would equal 20 hours of practicing over that time period.
Do your best to practice over 15 minutes a day. 30 minutes a day is good start for beginner instrumentalists.
And, again, have someone help you hold to your new discipline. It is best to have a parent or guardian sign the form. You can take this chart to your music teacher to show them how much you practiced.
You can use this chart by yourself just to keep up with your time. However, think about using the other Clarinet-Now.com 15-week chart below.

15-Week Practice Chart
This chart is set up a little differently than the one offered above. This one helps you keep accountable to yourself; you do not need a guardian to help you sign it.
Click here to view the 15-week Chart PDF in your browser, or right-click to download it.
On this practice chart, you can keep a good record of weekly practice. Add up the amount of minutes or hours you practice each week.
1. On the "week" line, include the date under the appropriate "day" column.
2. On the blank line below the "week" line, include the minutes or hours you practiced. Add these up at the end of that week and then at the bottom when you have completed your chart.
AGAIN, THESE CHARTS ARE MEANT FOR YOU TO PRINT OUT, KEEP IN YOUR MUSIC OR POST ON YOUR WALL OR BULLETIN BOARD TO KEEP UP WITH YOUR PRACTICE MINUTES OR HOURS.

Consistent practice over time will pay off the best rewards!