Clarinet Sheet Music
So, you are hungry. You want clarinet sheet music to sight-read and you want it now. On this page you will find links to:
1. Commercial music sites give you a free view of copyrighted music.
2. Free Printable Clarinet Music Sites
3. Free Clarinet Music right under your noses to check out and read.
Following these links should fill your sight-reading needs for years and years. The sky is the limit.
---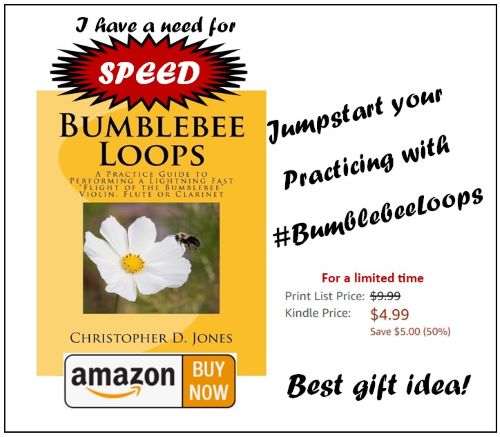 Go to Amazon/Bumblebee Loops to get your copy of Bumblebee Loops here. 
---
You can take these links a couple of ways: Buy music and read it; print out your music and read it; or read it on the computer screen. The third option I recommend if you wish to sight-read only; do your daily 10-15 minutes of sight-reading and SAVE TREES. Follow this sight-reading lesson and check these sight-reading goals, and you'll become an impressively literate clarinetist.
I guess the downfall of on computer reading is that you'll have to scroll the page (as opposed to turning the page). Of course, the more you sight-read, the better you'll improve. Just keep yourself focused and PRACTICE. Do not print out the music unless you really like it and wish to use it for ensemble playing or a recital. Honestly, I prefer and book or sheet of paper to read from as I practice.
Also, you are searching for free clarinet music, right? Well, let's expand your sight-reading options even more. When it comes to reading music, limiting yourself to clarinet music alone is no good. Search for trumpet music, flute music (will improve your altissimo range), violin music (will also improve your altissimo), French horn music (will improve your upbeats – Ha! Ha!), etc… Go for it and have fun.

GREAT CLARINET SHEET
MUSIC SOURCES
SHEET MUSIC PLUS

Your internet experience in searching for music has already probably led you to Sheet Music Plus. Well, yes, this is a commercial website to buy music, but it has one really awesome feature if you are hungry to sight-read. It offers you a look at the first page or two of the greatest clarinet sheet music, literature and method books already proven to create great clarinetists.
So, while you are looking for buying solos and potential method books, take a peak by clicking the "look inside" button to get your free music examples of these pieces and books:

Hite Melodious and Progressive Studies
Uhl 48 Studies
Mozart Concerto
Weber Concertino
Copland Concerto
For the one of the best books to buy and learn to sight-read, try the Klose Celebrated Method for Clarinet.

---
FREE PRINTABLE CLARINET MUSIC WEBSITES
Go to this Clarinet-Now.com page to find loads of Free Printable Clarinet Music links. You will fulfill your sight-reading needs beyond belief from these resources.
Free Printable Clarinet Music reviews and links.

---
OTHER SOURCES OF FREE CLARINET SHEET MUSIC TO SIGHT-READ RIGHT UNDER YOUR NOSES.
Church Hymn Books - Start simply. Open up a church hymn book and read the top line. Half-notes, quarter notes and eight note patterns should challenge and improve a beginner. Plus, if you attend regularly, you are familiar with the sound of the hymns.
Your Band or Orchestra Music Library Marches, solos, methods, duets, band and orchestra music….
Talk to your band or orchestra conductor. What is your interest in clarinet sheet music? Orchestral music, band marches, jazz band music, movie themes, etc… Look in your band or orchestra music library. See what is available and read, read, read…
Let's say to go into your band music library and want to read marches, YES, MARCHES. Check every march out you can get. Those patriotic selections everyone loves to hear on the 4th of July and in furniture and car commercials during national holidays. 2/4, Cut-time and 6/8. The time signature will not very much, but the repetitive rhythms, arpeggiated figures and mastery of common half, quarter, eighth and sixteenth note patterns will take you a long way. Plus, the key change at the trio (typically adding one flat) is part of the form you can learn to expect. Many marches have common scales and arpeggiated runs, repeated figures that will improve your sight-reading. The strict tempo provides a good basis for a solid musical foundation. Also, reading first clarinet parts will get you very familiar with the altissimo (highlighted to go to explain ranges) range. Now, go dig through your school music library. More than likely, you will find hundreds of marches to check-out and practice sight-reading.
Believe it or not, a little hint of patriotism might come out of your heart while reading the marches. Also, the military is all about discipline, right? Music is about discipline, too. The more you consistently practice and the more self-discipline you exercise, the better the musician you will become.

---
FREE SCALE PAGE
FOR YOU TO PRINT
Click the following scale graphics below to print your free Clarinet Major Scales pages...