10 Clarinet Goals for College, University, and College Students
These 10 Clarinet Goals are meant for University/College/Conservatory Students.
You are on an important journey. You love music! You've chosen to make it a career. Now, have you really thought out your goals?
---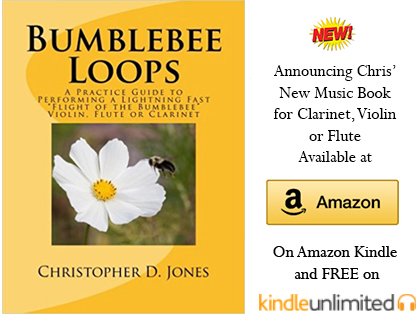 Go to Amazon/Bumblebee Loops to get your copy of Bumblebee Loops here. 
---
One major requirement before you read through some goals, MAKE SURE YOU LISTEN TO CLARINET! Add all types of styles to your Ipod or MP3 player. Go to You Tube and listen. So much music is available to you, take advantage of it. A good place to start is here with Famous Clarinet Players. 
No. 1 Goal - MAKE MUSIC!
1. Never, ever, ever forget to MAKE MUSIC. Often the competition is so tight and the private studio demands are so high, that expressing yourself is lost in the mix.
2. Really consider what your job potential is. The dreams of international soloist and principal clarinetist of a major symphony orchestra have TOUGH COMPETITION. Many practice their butts off and still do not reach this status.
3. Make sure TEACHING is at the top of your mind-set while in university/college/conservatory studies. Some people really avoid this part of sharing music. I'd advise you doing an analysis of jobs and pay charts. Teaching music is the most widely available job opportunity.
4. Be a Sponge!!! Take in everything your clarinet professor has to offer you. Find other professor role models to follow and go to their recitals.
5. Go to local, national, and/or international clarinet or music educator conventions. You will take-in so much good information and learn about new literature that you will draw on for years.
6. Take part in the national and international competitions.
7. Music business, audio and video recording, music notation programs, web-design, photography, and marketing courses are among very useful tools in sell-promotion. Do not underestimate the power of this knowledge. Let's say you are a talented, musical superstar, how to you write a press release, operate a tour schedule, compose music, make a commercial, sell your music, etc...?
8. Start taking auditions years before you graduate. Prepare as well as you can for them, but the experience behind the auditions will help steer your private lessons.
9. Think OUTSIDE OF THE BOX! What are you going to do with your music? How are you going to open people's hearts with the clarinet? While playing the greatest classical and jazz standards are SO important, are you going to dare to bring clarinet to the masses? Are you going to bring clarinet to new musical styles?
10. MAKE MUSIC AND REMEMBER TO TEACH AND SHARE YOUR KNOWLEDGE.

Other Goal Links - Tell me what are among your Clarinet Goals
10 Clarinet Goals for Young Students – Beginners through High School Band
10 Clarinet Goals for Beginner Adults – never played clarinet before and want to learn
10 Clarinet Goals for Returning Adults