Clarinet Quartet Sheet Music
FIND THE BEST CLARINET QUARTET SHEET MUSIC RESOURCES AND THE TOP THREE ORIGINAL CLARINET QUARTETS HERE
---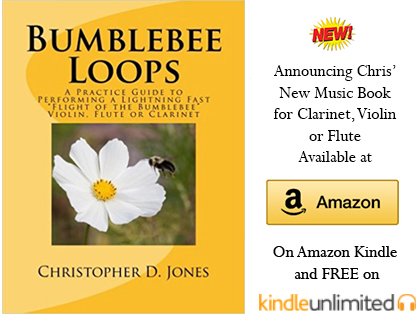 Go to Amazon/Bumblebee Loops to get your copy of Bumblebee Loops here. 
---
If you are organizing a Clarinet Quartet, this is the best place to start to get any kind of sheet music for the group.   Here you'll find the Top Three Original Clarinet Quartets of all time; loads of arrangements from classical, jazz, and Klezmer styles to movies themes; and places to find legal, free clarinet quartet sheet music.  

If you are thinking of organizing a Clarinet Quartet, make sure you leave this Clarinet Quartet Sheet Music page and read this guide, Absolutely Free!
Instrumentation

Let's start with discussing different instrumentation you will find in your search for clarinet quartet sheet music.
Standard Clarinet Quartet Instrumentation:
1.       3 Bb soprano clarinets and 1 Bb bass clarinet
2.       4 Bb soprano clarinets
3.       1 Eb soprano clarinet, 2 Bb soprano clarinets, 1 Bb bass clarinet
4.       1 Eb soprano clarinet, 1 Bb soprano clarinet, 1 Eb alto clarinet, 1 Bb bass clarinet
5.       2 Bb soprano clarinets, 1 alto clarinet, 1 Bb bass clarinet
Do not get too down in the dumps if you don't have or know people who play "the exotics" – meaning Eb soprano, Eb alto clarinet, or Bb bass clarinet.   It is perfectly fine to start playing with four Bb soprano clarinets, just make sure you print and/or order music for four Bb soprano parts or 3 Bb sopranos with Bb bass clarinet.   The fourth player can easily play the bass part on soprano.  It will not sound as dark and deep as an ensemble, but the most important thing to do is get together.
Top three Original Clarinet Quartets Harvey, Uhl, Waterson
Like I said, there is not a lot of original clarinet quartet literature out there.  But, these are the top three works composed specifically for the ensemble.
Why is this important?  These composers wrote for the clarinet.   These are not transcriptions with awkward jumps or impossible licks meant for a non-clarinet ensemble.   These tunes are not easy, but they should be on the top of your list of collecting clarinet quartet sheet music.
Paul Harvey's Quartet (3 Bb and Bass) - Probably the number one, original clarinet quartet.   One of my favorites of all time.   Paul has a great way of writing for the clarinet and making this ensemble sound rich and deep.   Notice from movement to movement, he uses the last motive of one movement to start the motive of the next movement.  Genius!  This piece is easy on the ears for nearly any audience.  Four three soprano clarinets and bass clarinet.

| | |
| --- | --- |
| look inside | Quartet Composed by Paul Harvey. For Clarinet Ensemble. Schott. Playing score. 52 pages. Schott Music #ED11072. Published by Schott Music (HL.49002641). |
Alfred Uhl's Divertimento for clarinet quartet (3 Bbs and Bass) - Modern sounding but palatable for the audience.  This work is challenging to put together but well worth the effort.

| | |
| --- | --- |
| look inside | Divertimento (Set of Parts). Composed by Alfred Uhl (1909-1992). For Clarinet Ensemble. Schott. Set of Parts. 30 pages. Schott Music #ED4437. Published by Schott Music (HL.49004886). |
James Waterson's Grand Quartet (Four Bb soprano clarinets) – Very challenging and composed in a classical style.  Each part has technical passages to learn.   This piece is written for four Bb soprano clarinets, but I have played it many times with a bass clarinetist on the fourth part.
| | |
| --- | --- |
| look inside | Grand Quartet (Clarinet Quartet). Composed by James Waterson. Arranged by Andraud, Albert and Albert Andraud. For Clarinet Quartet, Woodwinds (FULL SCORE ONLY). Woodwind Solos & Ensembles - B-Flat Clarinet Quartet. Southern Music. Grade 5. Southern Music Company #SS285SC. Published by Southern Music Company (HL.3773912). |
More Great Clarinet Quartet Sheet Music
Below is a short list of fun tunes or books to collect. 
For Digital Download --- Musicnotes.com has Classical, Jazz, Patriotic, Hymns, and Christmas Carols. More than 280 selections for as low as a few bucks each.
Movie Quartets for All includes Hedwig's Theme * Over the Rainbow * And All That Jazz * The Magnificent Seven * Theme from A Summer Place * Eye of the Tiger * There You'll Be * Blues in the Night * The Pink Panther * You're a Mean One, Mr. Grinch * Parade of Charioteers * Hakuna Matata
Clarinet Candy by Leroy Anderson This piece also has a separate band accompaniment to feature your quartet.
Allegro for Clarinet Quartet, By Gilles Arcens Do you like videogame music? This sounds like it. Click on the soundfile once you visit the site.
Klezmer Clarinet Quartets more than ten to pick from here.
The Nutcracker Suite By Peter Ilyich Tchaikovsky Perfect for the holiday season and includes these movements: Overture Miniature; Arabian Dance; Dance of the Sugar Plum Fairies; Trepak; Waltz of the Flowers. Christmas, Hanukah. Duration 15:30.
The Pink Panther By Henry Mancini
Brubeck Blue Rondo a la Turk Clarinet By Dave Brubeck – THE COOLEST TUNE ON THIS WHOLE LIST!!!
Clarinet Marmalade By Edwin "Daddy" Edwards, D. James "Nick" Larocca, Tony Sbarbaro, Larry Shields Originally written and performed by members of the Original Dixieland Jazz Band of New Orleans in 1917, this rousing tune puts capable clarinetists through the paces in fun-loving Dixieland style. Predictably, accented upbeats and syncopations abound from start to finish. Duration 2:40.
Flex-Ability Pops -- Solo-Duet-Trio-Quartet with Optional Accompaniment Clarinet/Bass Clarinet Here you can play as a quartet, or chip it down to trio, or duet. Here is the tune list on Flex-Ability Pops: 1. Peter Gunn Composed by Henry Mancini 2. La Bamba Arranged by Victor Lopez 3. Sweet Georgia Brown Composed by Maceo Pinkard, Ben Bernie, Kenneth Casey 4. Jeepers Creepers Composed by Harry Warren; Lyrics by Johnny Mercer 5. Eye Of The Tiger Composed by Jim Peterik, Frankie Sullivan Iii 6. China Grove Composed by Tom Johnston 7. Soul Man Composed by Isaac Hayes, David Porter 8. Celebration Composed by George Melvin Brown, Ronald Bell, Claydes Smith, Robert Mickens, Dennis Thomas, Robert Bell, James Warren "j.t." Taylor, Earl Toon, Eumir Deodato 9. In The Midnight Hour Composed by Steve Cropper, Wilson Pickett 10. When The Saints Go Marching In Arranged by Victor Lopez 11. Frosty The Snowman Composed by Steve Nelson, Jack Rollins
Ensemble Classics Series for Clarinet Quartet - Book I for Four Bb Clarinets This is a classic collection that quartet ensembles have played for years. 1. Hunters' Round Composed by Artot 2. Andante Composed by Robert Nicholas Charles Bochsa 3. Minuetto Composed by Schmidt 4. Oxen Menuet Composed by Franz Joseph Haydn 5. Equale No.1 Composed by Felix Bartholdy Mendelssohn 6. Finale (Quartet Op.64) Composed by Bohne 7. Holidays (Op.119) Composed by Alexander Tikhonovitch Gretchaninov 8. Forty-second Psalm Composed by French Chant 9. Ave Verum (Jesu, Word Of God Incarnate) Composed by Wolfgang Amadeus Mozart 10. Polka Composed by Bohemian 11. Scenes Childhood Op.15 Composed by Robert Schumann 12. Rustic Dance Composed by Bohemian 13. Chorale "in Thee Have I Trusted, Lord" Composed by Johann Sebastian Bach 14. Prayer (Hansel&Gretel) Composed by Engelbert Humperdinck
Two places to find loads of Free Clarinet Quartet Sheet Music 
The Clarinet Institute
- promoting organization of clarinet quartets especially with a number of free classical and jazz arrangements.  
Free-scores.com
for many more free Clarinet Quartet Sheet Music arrangements.