Best Clarinet Sheet Music
If you are looking for the Best Clarinet Sheet Music of all time, you've come to the right place to start. Here I've listed by musical form some of the best music written for the clarinet.

---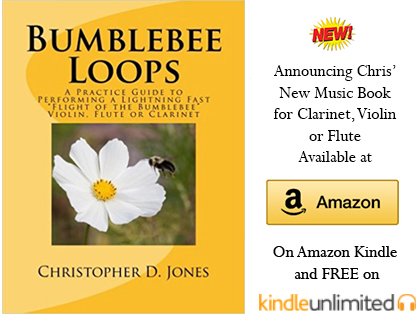 Go to Amazon/Bumblebee Loops to get your copy of Bumblebee Loops here. 
---
Clarinet Concertos - As a musical form, the concerto usually has three movements (fast, slow, fast) with a featured instrument accompanied by an orchestra. Since orchestras are not readily available to clarinetists, a piano reduction of the orchestral score is made so the "concerto" is played as a duet with clarinet and piano.
Following are some of the most prominent clarinet concertos:
2. Weber Clarinet Concertos Concerto No. 1 and No. 2, No. 73 and 74
5. Spohr Clarinet Concertos 1-4
10. Rimsky-Korsakov Clarinet Concerto


Clarinet Sonatas - a sonata as a musical form typically has four movements (Fast, Slow, Dance, Fast). Sonatas are considered "chamber music," and can work for solo instrument (piano sonata) but in the case of the clarinet, includes a clarinetist and pianist.
The sonata intermingles the instruments more than a concerto (where you have a soloist and an accompanist). So, the sonata is much more like an equal duet.
This is oversimplified; of course, but a general idea about the sonata. One other thought, since these works listed are known as "clarinet sonatas," it does not diminish the importance of the pianist. It is just that a clarinet sonata is specific to clarinet like a cello sonata is specific to cello.
Best Clarinet Sheet Music - Clarinet Sonatas
1. Brahms Sonatas No.1 and 2, Op. 120
3. Saint-Saens Clarinet Sonata
10. Templeton Pocket Size Sonata


Best Clarinet Sheet Music – Other great works not in the form of concerto or sonata. Sorry folks, I couldn't hold to only ten. You will find a list of 15 below...
2. Rossini Introduction, Theme and Variations
5. Schumann Phantasiestucke, Op. 73
6. Weber Grande Duo Concertante
7. Vaughan Williams Six Studies on English Folk Song
10. Weber Introduction, Theme and Variations
11. Cavallini Adagio and Tarantella
13. Berg Four Pieces
14. Cahuzac Variations sur un Air du Pays d'Oc
15. Kalliwoda Morceau de Salon, Op. 229

What do you think is the
Best Clarinet Sheet Music?
What is your Top Ten List of Clarinet Works?
What is your Top Ten List of Clarinet Works? Start out with a list of Top Ten all time clarinet works, but if you wish, let me know what are your top ten concertos, top ten sonatas, top ten jazz pieces, top ten unaccompanied works, top ten modern music or top ten Dixieland hits. You name it. Give me your list.
Top Ten lists from Other Visitors
Click below to see contributions from other visitors to this page...

Top Ten Clarinet Solos Not rated yet
1. Mozart Concerto 2. Copland Concerto 3. Finzi Concerto 4. Debussy Premiere Rhapsodie 5. Finzi Bagatelles (cl & pf) 6. Rabaud Solo de Concours (cl …
Retired Band director Not rated yet
Three Pieces for Unaccompanied Clarinet - Stravinsky Premiere Rhapsodie - Debussy Concert Fantasia Motives from the opera "Rigoletto" - Bassi Three …