Free Printable Clarinet Music
You are about to read about the two best links for Free Printable Clarinet Music.

---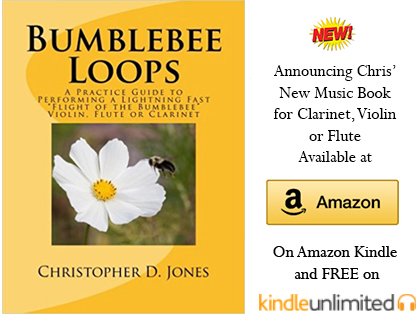 Go to Amazon/Bumblebee Loops to get your copy of Bumblebee Loops here. 
---
Oliver's (mostly) Clarinet Music Page
Oliver's (mostly) Clarinet Music Page has an impressive selection of free downloadable music. You will keep yourself really busy sight-reading and/or learning this music. Plus, as opposed to Sheet Music Plus, you can download these pieces.
Find here music of Beethoven, trios of Bouffil, duos by Crusell, concertos and partitas by Krommer, Concertpiece No. 1 and No. 2 of Mendelssohn, the famous Trio, Quintet and Concerto of Mozart and Rossini's Introduction, Theme and Variations.
Read more about the Best Beginning Clarinet Books here.
Clarinet-Now.com poster on a New York City Bus...

One warning about these free printable music downloads. If you are planning on using, let's say, the Mozart Concerto from this website for your state solo and ensemble contest or all-state prepared pieces. Be careful, most states require a certain "edition" of the Mozart Concerto (or whichever work you plan to try) and that you own that published edition to perform for the contest. This is not saying these offerings are no good. It is saying state judges are very specific about certain editions.
What is the difference between editions and publishers? For instance, look at these two published editions from Sheet Music Plus of the Mozart Clarinet Concerto (Simon/Schirmer Edition) look inside 2 and Mozart Clarinet Concerto (Barenreiter Edition) look inside 3.

You will see that the clarinet part of the Simon/Schirmer edition shows 56 bars worth of rests during the orchestral "tutti" section and the Barenreiter edition shows the orchestral "tutti" section completely written out on the clarinet part.

This is only one example of how publishers and editors have differences on the very same piece of music. In New York, students wishing to play the Mozart Concerto as their NYSSMA solo have to use the Simon/Schirmer edition. This state is picky on this point, is your state picky about your solo and ensemble choice? Ask your band director.
Different editors, publishers, etc… have their take on historical scores, preferences in articulation, preferences in phrasing, etc… Some states and contests just prefer their players use the same edition so they can keep their scoring systems simpler.

Clarinet Institute - lots of
Free Printable Clarinet Music

Best Free Printable Clarinet Music option number two
Wow! Music that is public domain. That means the music was either donated to the Clarinet Institute or is was published over 75 years ago, so their copyright has passed. You will find solo, clarinet and piano, chamber music, clarinet duets and clarinet quartets on this site. Go to the Clarinet Institute to check out this incredible collection of free printable clarinet music.