Saxophone Clarinet Grammy
This Saxophone Clarinet Grammy page lists winning and nominated saxophonists who also play clarinet. It is nearly impossible to keep track of every winning or nominated recording where saxophonists play a tune or a lick on clarinet. On these recordings, there is no guarantee these saxophonists played clarinet.
Probably the most notable is Paquito D'Rivera. Since this is a clarinet website, my Clarinet Grammy Award page holds a list of players who play clarinet only on their winning or nominated albums. Mr. D'Rivera plays clarinet on this list of albums but is primarily known as a saxophonist. His album The Clarinetist Volume One, nominated for the 2001 Grammy Awards, is listed on the Clarinet Grammy page as Mr. D'Rivera plays clarinet solely on that recording.
---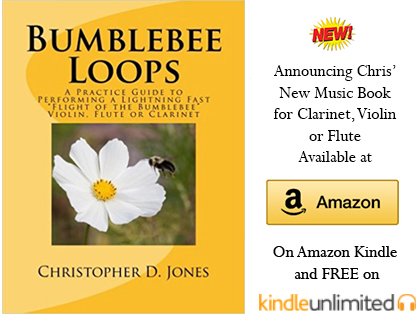 Go to Amazon/Bumblebee Loops to get your copy of Bumblebee Loops here. 
---
THE SAXOPHONE CLARINET GRAMMY AWARD WINNERS ARE:
Best Latin Jazz Album – Winner; 2008 Grammy Awards; Paquito D'Rivera – Funk Tango
Best Instrumental Composition – Winner; 2004 Grammy Awards; Paquito D'Rivera – Merengue
Best Traditional Tropical Latin Album – Winner; 2002 Grammy Awards; Paquito D'Rivera as Guest Artist with Bebo Valdes Trio -- El Arte Del Sabor
Best Latin Jazz Performance – Winner; 1996 Grammy Awards; Paquito D'Rivera – Portraits of Cuba
Best Jazz Instrumental Performance – Group – Winner; 1983 Grammy Awards; Phil Woods Quartet – At the Vanguard
Best Jazz Instrumental Performance - Group – Winner; 1982 Grammy Awards; Phil Woods Quartet - More Live
Best Latin Recording – Winner; 1979 Grammy Awards; Paquito D'Rivera -- Irakere
Best Historical Repackage Album – Winner; 1978 Grammy Awards; Lester Young Story, Vol. 3
Best Jazz Instrumental Performance - Group – Winner; 1977 Grammy Awards; Phil Woods - The Phil Woods Six - Live from the Showboat

SAXOPHONE CLARINET GRAMMY NOMINEES:
Best Jazz Instrumental Solo – Nominee; 2006 Grammy Awards; Paquito D'Rivera -- Hilario Duran Album / From the Heart
Best Classical Crossover Album – Nominee; 2005 Grammy Awards; The Jazz Chamber Trio - Paquito D'Rivera & The Jazz Chamber Trio
Best Latin Jazz Album – Nominee; 2004 Grammy Awards; Conrad Herwig Nonet Paquito D'Rivera guest artist -- Another Kind of Blue: The Latin Side of Miles Davis
Best Album Notes – Nominee; 2000 Grammy Awards; The Complete Lester Young Studio Sessions on Verve - John Chilton
Best Large Jazz Ensemble Album – Nominee; 2000 Grammy Awards; The Buddy Collette Big Band in Concert - The Music of William Buddy Collette - Buddy Collette Big Band
Best Boxed Recording Package – Nominee; 2000 Grammy Awards; The Complete Lester Young Studio Sessions on Verve - Hollis King
Instrumental Composition – Nominee; 1999 Grammy Awards; Tropicana Nights - Paquito D'Rivera
Latin Jazz Performance – Nominee; 1998 Grammy Awards; Paquito D'Rivera and the United Nations Orchestra - Paquito D'Rivera and the United Nations Orchestra
Best Jazz Instrumental Solo – Nominee; 1993 Grammy Awards; Phil Woods - Nostalgico
Best Jazz Instrumental Solo – Nominee; 1991 Grammy Awards; Phil Woods - All Bird's Children
Best Jazz Instrumental Performance - Group – Nominee; 1984 Grammy Awards; Phil Woods, Chris Swansen - Piper at the Gates of Dawn
Best Jazz Instrumental Performance - Soloist – Nominee; 1983 Grammy Awards; Phil Woods - At the Vanguard
Best Jazz Instrumental Performance - Group – Nominee; 1980 Grammy Awards; Phil Woods - The Phil Woods Quartet, Vol. 1
Best Latin Recording – Nominee; 1980 Grammy Awards; Paquito D'Rivera -- Irakere II
Best Jazz Instrumental Performance - Soloist – Nominee; 1980 Grammy Awards; Phil Woods - The Phil Woods Quartet, Vol. 1
Best Jazz Instrumental Performance - Group – Nominee; 1978 Grammy Awards; Phil Woods Quintet - Song for Sisyphus
Saxophone Clarinet Grammy